Making Buildings Smarter
Axonize offers an end-to-end solution to modify existing buildings to operate more efficiently, reduce costs and improve utilization, security and comfort. Our Smart Building platform provides an out-of-the-box solution to connect, monitor and control an unlimited number of devices in, and across buildings and offices without having to write a single line of code.
Benefits of a Smart Building
How often do lights or A/C stay on in a room when no one is using it? Are the doors and windows shut at the end of the day? These are questions you should be able to answer at any given time.
Buildings are one of the biggest energy consuming entities. This reality is driving innovation in smart buildings and smart offices to help owners avoid unnecessary costs.

Axonize enables you to capture important data to monitor and analyze any building (or many buildings) you manage from one centralized location on a single platform.
Recording, analyzing and evaluating elements of your building gives you the control you need to improve service quality, reduce overhead costs, and increase ROI within months.
You can start small. Smart building tools for energy management with a focus on HVAC, lighting, and some types of electricity alone result in expected savings from 10-25%.
(Source: Cost, Savings, and ROI for Smart Building Implementation via IoT One)
Connecting your offices or making your buildings smarter is a necessity to stay competitive in today's real estate and job markets. According to a study by Market Research Future, the global Smart Building Market is expecting a boost by 29.69% CAGR during the forecast period of 2018-2023, and will quadruple its previous market valuation of $7.45 billion USD in 2017 to attain a worth of USD 33.70 billion by 2023.
(Source:MRFR Smart Building Market Research Report – Forecast to 2023)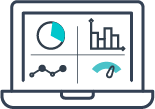 Enhanced Customer Experience
Create a people-centered environment. Monitor, analyze, and manage conditions such as temperature and lighting to boost the comfort and increase the user experience of tenants, employees, and guests. Employ technology that powers room bookings and cancellations, visitor management, smart parking, shared desks, and more.
Increased Service Quality
Total usage transparency enables you to monitor your buildings or offices effectively by aligning services and avoiding unnecessary use of resources. Set and optimize comfort parameters, including air quality, humidity, and temperature.
Elevated Efficiency
Manage buildings with greater efficiency by optimally aligning areas to their actual needs. This may lead to additional profit by renting unused spaces. Ensure areas are never too crowded and provide optimal balance between people and space.
Lower Costs
Total visibility enables you to avoid costs that come with unnecessary heating, open windows, the lighting of unused spaces, and wasted energy. Implementing smart building technology allows you to capture important data to reduce overhead costs and increase ROI quickly. You'll be able to identify actual usage of rooms, desks, and spaces to better optimize them and implement these insights for additional cost savings.
Hardware
Sensors
Axonize offers a set of standard sensors for capturing events, readings, and measurements. These pre-integrated battery-operated sensors can be used to measure the movement of people in rooms, opening and closing of doors and windows, CO2 temperature, humidity, light, noise level, VOC and more.

Gateways
Axonize provides gateways and servers for collecting, aggregating, and bidirectional communication from any existing legacy devices and sensors and all new retrofitted devices and sensors. Various types of Axonize gateways are provided for the building, connecting all sensors to the Axonize platform.
Software
Our Smart Building Bundle provides the entire IoT platform as a Software As A Service (SaaS) for analyzing and visualizing data collected in the cloud. This interface enables you to monitor, manage, and control the smart building or office, including managing sensors, configuring alarms and notifications, user administration, and data storage.
Axonize provides pre-configured software for all the functionality needed for smart buildings, facility management, building monitoring, and analytics to enable optimal savings, usage, and comfort of building spaces and resources.
Ecosystem Partners
Our ecosystem partners include, companies as: Qore Technologies, Disruptive Technologies, Yanzi, Johnson Controls, Wirepass, Pointgrab, LORIOT, Advantech, BTI, Lorawan and many others.
Together with our partner ecosystem, we are able to provide businesses with a smart building bundle, which is scalable, secure, accurate, and easy to launch and maintain.
What Makes Axonize-Powered Smart Buildings & Offices Different?
Axonize-supported smart buildings have the flexibility and customizable functionality to create unlimited additional services, such as space monitoring, comfort monitoring, people flow, smart services, energy efficiency, predictive maintenance, and more.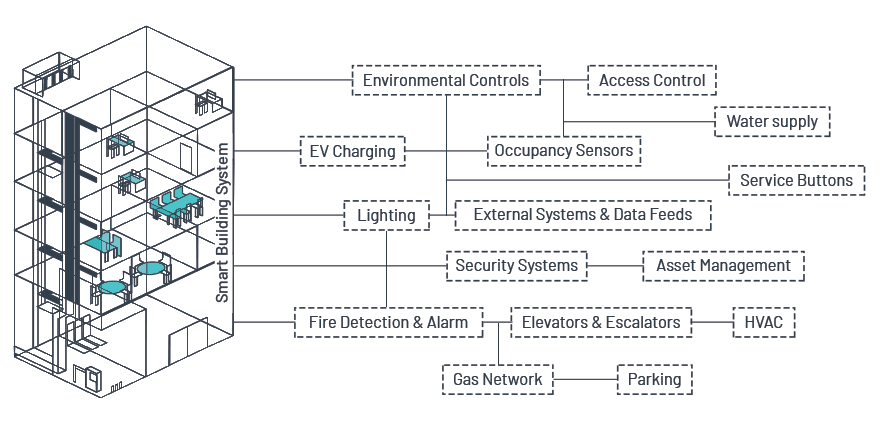 Packages built for your unique needs
Axonize offers various smart building and smart office packages to meet your individual needs. Now you can receive all capabilities of our smart building end-to-end solution at a deeply discounted rate. Learn more about our special smart building offer today.
Occupancy & Analytics
Space Utilization
Energy Efficiency
Complete Building Mgmt.

Examples:

Presence
People counting
Analyzing cost

Examples:

Desk usage
Room booking
In-door navigation

Examples:

Examples:

Asset mgmt.
Safety and security
Smart parking
Our mentality: start small and scale
Connecting an entire office or building shouldn't feel daunting. Axonize's team of experts will help you identify where to start and will work with you every step of the way on your smart building or office projects to ensure their success. With hands-on assistance, we'll then help you scale when you're when ready to add more sensors, devices, or entire buildings.
From energy efficiency to space utilization to comfort to improved guest services technology, Axonize's end-to-end, customizable solution makes your buildings and offices smarter within days so you can recognize ROI within months.
Smart Building Case Studies